In the pipe class menu the pipe class actions can be selected. This drop down menu can also be activated by right clicking in the list view of the main window with the list of pipe classes.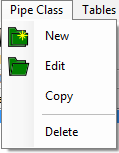 Pipe Class Menu
The various menu items lead to:
'New', to create a new pipe class. See New pipe class.
'Edit', to edit the data of an existing pipe class. See Edit pipe class.
'Copy', to copy an entire pipe class in this project or to another project. See Copy pipe class.
'Delete', to delete an existing pipe class (note: this action can not be undone).